OK, So it's confession time. How many of you have used a frequent shopper card this past week? Nowadays it's pretty easy. Just plug in your phone number at the grocery, or while buying another latte you show your app or punch card to get the next one free. Is it worth the trouble to start one for your business?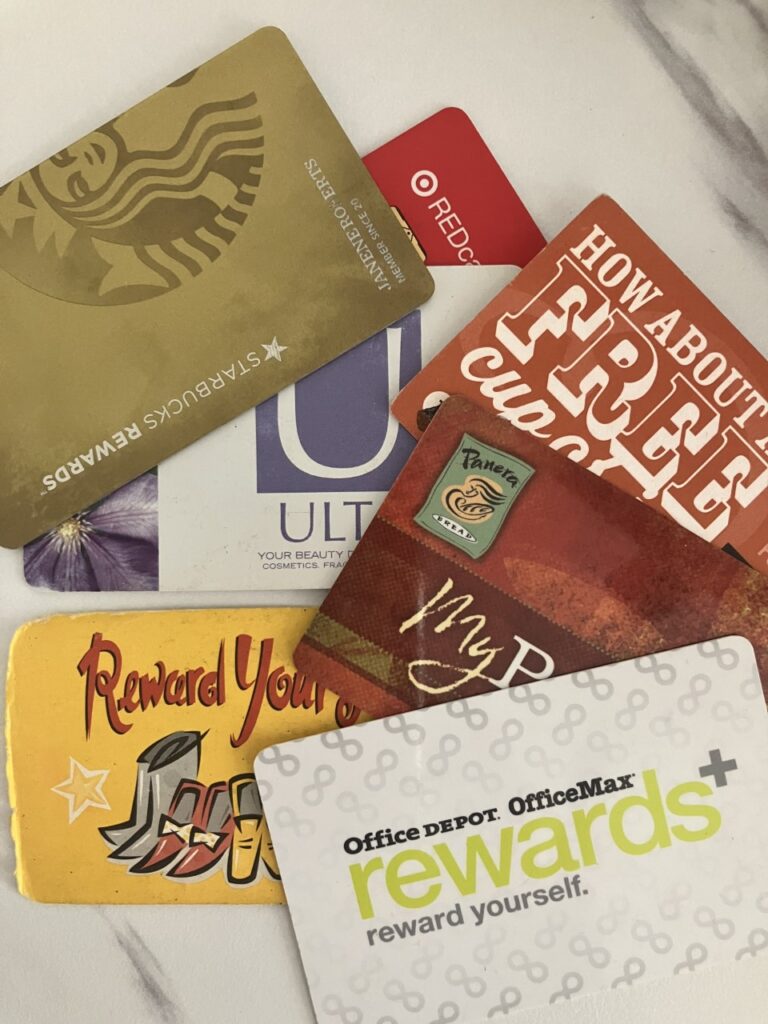 According to a January 3, 2023 article on explodingtopics.com , the "average American consumer belongs to 16.7 customer loyalty programs."
It further explains that the rewards plans most used are "credit cards, high-frequency retail, mid-frequency retail, travel and dining."
The report mentions the programs used often are because consumers want to "maximize points earnings." It seems points are "effective in driving customers toward spending on brands," and people with more money use these rewards cards more. The stated blog post says that 62% of consumers spend more money on their choice places after signing up for a paid loyalty program.
So, it sounds like a good idea to start one.
Further according to a Forbes post "It costs five times as much to attract a new customer than to keep an existing one." You probably already see this pattern playing out in your business. So it would make sense to encourage new customers to become repeat customers.
In a Mention Me's 2021 Customer Advocacy Report, it states that 40% of customers are likely to buy again from brands that reward loyalty.
The businesses that offer rewards for frequent purchases are encouraging customers to repeatedly buy.
Rewards benefits can improve customer retention, and gain loyal customers while building strong relationships with them. They can also increase customer satisfaction, make you stand out from your competitors and build more revenue.
As explained in an Accenture post, customers spend on average about 12% to 18% more when engaged with these programs.
From these articles it sounds like a loyalty points program might be the way to go, but don't make the reward level too high or difficult to achieve, and start giving rewards right away to encourage visits. A good example of this is a recent campaign with Einstein Bagels for their Shmear Society Rewards program. New loyalty members receive a free bagel and smear just for signing up.
To get started with your new rewards program, you'll need to spend some time doing research, or hire a person to help you get started. There are many software platforms to consider.
From Fit Small Business the best small business loyalty program software programs are LoyaltyLion, TapMango, Yotpo, Annex Cloud, Zinrelo and Smile.io.
Other websites mention Salesforce Experience Cloud, Kangaroo, Tango Card, Preferred Patron Loyalty, Glue, Jay and FiveStars. Since there are a plethora of platforms, spend time asking some of your business contacts what they use if they have a program in place.
It appears most big businesses build their own platforms. For example, Starbucks recently launched Starbucks Odyssey in September 2022. In a TechCrunch.com post they say it's their "first foray into building with web3 technology."
If you don't have a lot of time or money to get going on a program, you can always start with a printed punch card. You'll find a lot of small coffee shops using this type.
The following are some good examples of loyalty programs in place. You could model yours based on ones that are working and recognizable. You might have your own opinions based on your personal preferences so this is not an all inclusive list, just some suggested examples. These were pulled from Businessinsider.com and Emarsys.com
Amazon Rewards Visa card (Free) Sign up and get approved for a credit card to use the Amazon loyalty program. Shoppers get 3% or 5% back on every dollar spent on Amazon and Whole Foods Market.
Barnes & Noble B&N Rewards (Free) You get stamps every time you shop, one stamp for every $10. Ten stamps earns a $5 reward.
Baskin Robbins (Free)Upon sign up members receive a free scoop of ice cream on their birthday. They also send offers and updates.
Bloomingdale's The Loyalist program (Free) Earn a point for every dollar spent. They offer free shipping every day. They have exclusive offers and you can earn triple points on personal days. If you have a Bloomingdale's credit card you get triple points. Use points for gift cards.There are extra points for achieving a higher level.
CVS ExtraCare (Free) The program rewards customers with ExtraBucks to pay for their next shopping trip.
Dick's Sporting Goods (Free) The ScoreCard gives 1 point for every dollar spent. When you reach 300 Points you get a $10 Reward. If you spend more or have a credit card, you go up a tier.
Disney (Various levels of fixed annual fees) Magic Keys is a tiered, card-based loyalty program to encourage repeat visits.
DSW VIP (Free)This is a points based loyalty program that gives members 1 point for every $1 spent, and $5 reward for every $100 spent. You also get $5 off for your birthday, free shipping on every purchase, and more points for donating nearly new shoes to someone in need. They have three tiers with more offers the more is spent.
Ikea Family (Free) They offer free in-store coffee and tea to members, savings on delivery, 5% back on some in-store items, members-only offers, surprise rewards, free workshops and more.
Kohl's Rewards (Free) Members receive a free birthday gift and 5% rewards on every purchase, every day. Rewards are issued each month.
Lancome Elite Rewards (Free) You earn points for dollars spent and receive a birthday gift. Connecting on social media and giving them information about yourself gives you more points. They have different tiers based on how many points are earned.
Michael Kors KORSVIP (Free) They have a tiered loyalty program where members earn points, free standard shipping, including surprise gifts, private events, and special services. According to some, their gifts are generous. The higher the level, the more you get.
Nordstrom Nordy Club (Free) Earn one point for every dollar spent at Nordstrom, Nordstrom Rack and TrunkClub. Points can be cashed for store credit. Nordstrom credit card holders earn points two times faster. You also get "Insider Access" to stuff like style workshops, curb side pick-up.
Office Depot Rewards (Free) You get 2% back in rewards, members-only savings, $2 back in recycling and $2 back for reviews.
PetSmart (Free)Members receive points for every $1 spent in store and online, a surprise on the pet's birthday, plus points are earned for grooming, training, donating to their charity and purchases.
Reebok Unlocked (Free) Gives 15% off on their welcome offer, free shipping, returns and exchanges on all orders, $10 off a purchase on your birthday and exclusive offers.
REI Co-Op program (Pay $30 once and receive membership for a lifetime) They have a no questions asked return policy even without a receipt because purchases are logged through membership. Members get 10% back on purchases, members-only specials, access to the REI community with classes, events and REI Adventures. They also have REI Garage sale events.
Sears Shop Your Way (Free) Members get coupons, 1% cash back in points for every $1 spent and surprise points offers.
Sephora Beauty Insider Program (Free) Earn one point for every dollar spent and you can also earn products and sets. In addition they have access to beauty classes, seasonal promos, and curated sets. They have three credit cards for more exclusive perks.
Starbucks (Free) They suggest using their app to maximize benefits. Every day there are bonus stars to elect to participate in. You get one star for every dollar that can be used to pay for items and sometimes you get free refills and other perks.
Target REDcard (Free to sign up) It takes a little extra time to set up but worth it if you shop here often. You sign up for their credit, debit or Reloadable card to save 5% on every purchase. You get free shipping for online orders and an additional 30 days for returns with no annual fee.
Tarte Cosmetics Tarte Rewards (Free) Members earn ten points for every $1 spent and can redeem points for exclusive offers.
Williams Sonoma The Key (Free) Members get 2% back in rewards, members-only offers, and early access. The membership is good for all of their brands including 3% back on Pottery Barn, West Elm and Mark and Graham.
Walgreens MyWalgreens (Free) Loyalists get automatic sale prices, 1% cash rewards per $1 spent, 5% earning on Walgreens branded products, only for you deals and more. If you sign up for their credit card you get even more rewards.
Ulta's Ultimate Rewards (Free) Earn a point for each dollar spent, two points with the Ultimate Rewards Credit Card. Some select products earn even more awards. There's also a gift on the member's birthday and more points earnings in birthday month. Higher spending levels unlock more rewards.
Keep looking at how other marketers are doing things right here. More research. Get started today to earn more loyalty with your customers.