Problem:
Open the Gates (OTG) is a non-profit with limited staff and resources. Despite this they are able to provide food, entertainment and gifts for refugee kids and parents every year at Christmas at an event called the International Christmas Celebration (ICC). Refugee children are new to the country and may not speak a lot of English. Most of the parents are struggling and need resources. They may not have a lot of money to give gifts to their children. The ICC fills a need for food, entertainment, and gifts during the Christmas season, a holiday season that they may not be familiar with.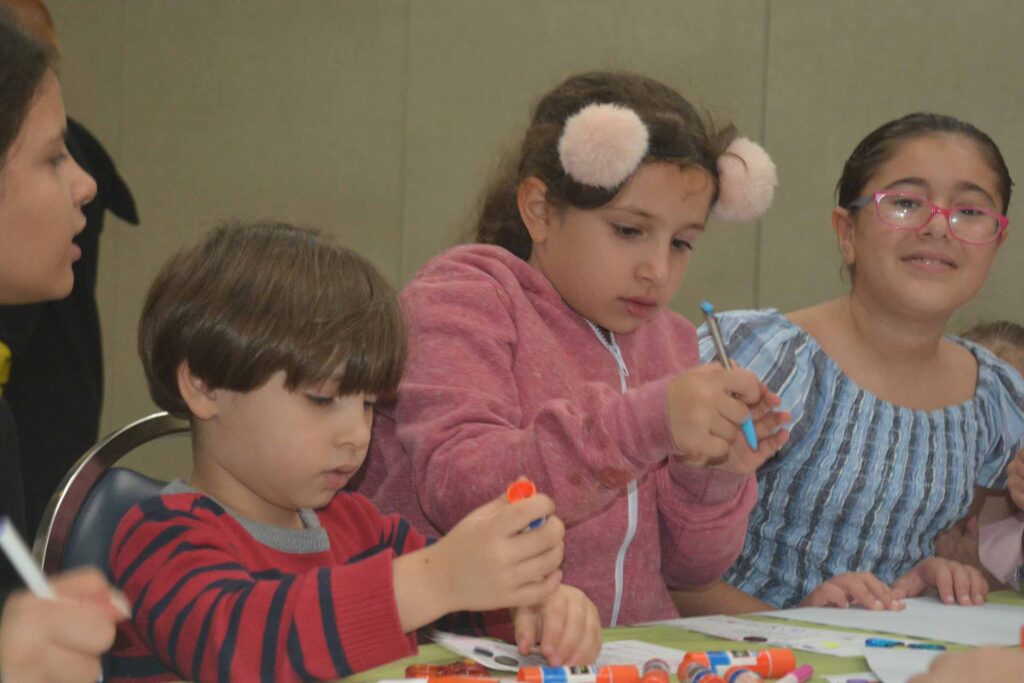 Project
Open the Gates came to Popcorn Press & Media, Inc, with a request for help in planning the 400 person Christmas event. They also needed help with managing about 50 volunteers prior to and during the party and requesting donations from businesses, individuals and churches.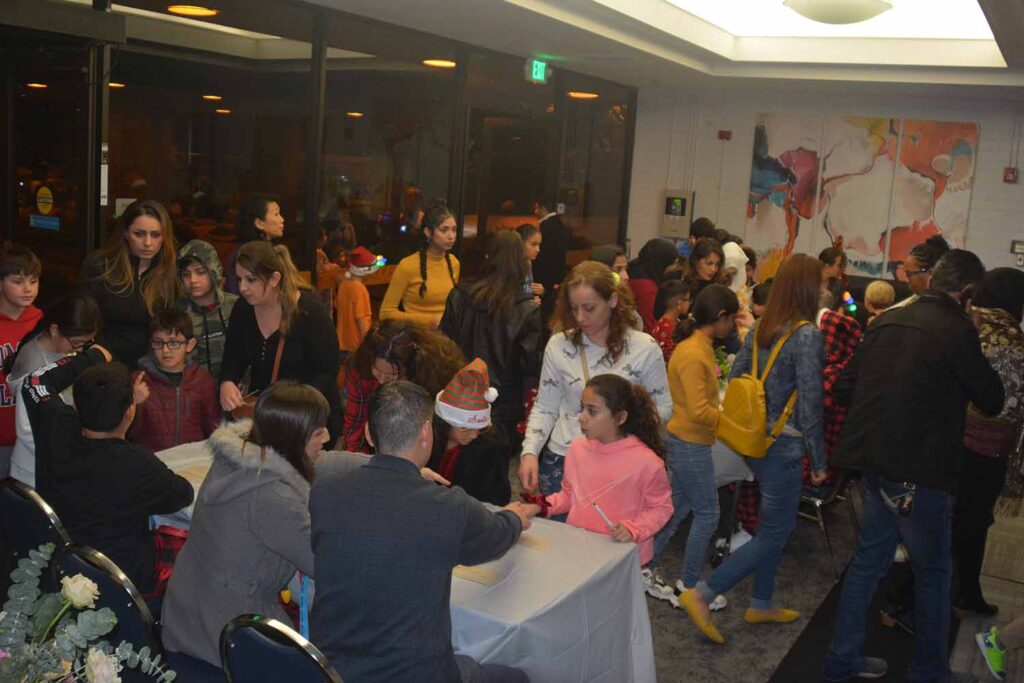 Solution:
Popcorn Press & Media, Inc (PPM) took on the pro bono project of planning, promoting, managing volunteers, working with staff and requesting donations for the party.
The first thing was to research ideal locations. They found a facility that is close to where the refugees reside since many don't have transportation or are struggling with finances. Since this event had been produced before, they gathered the names of volunteers and donors from the past and added names of targeted businesses to contact. They worked with the staff of Open the Gates (OTG) to produce marketing materials. Videos, email blasts and newsletters were produced by the OTG staff. The staff created graphics for T-shirts and programs and these images were used throughout the marketing promotions to create a consistent theme.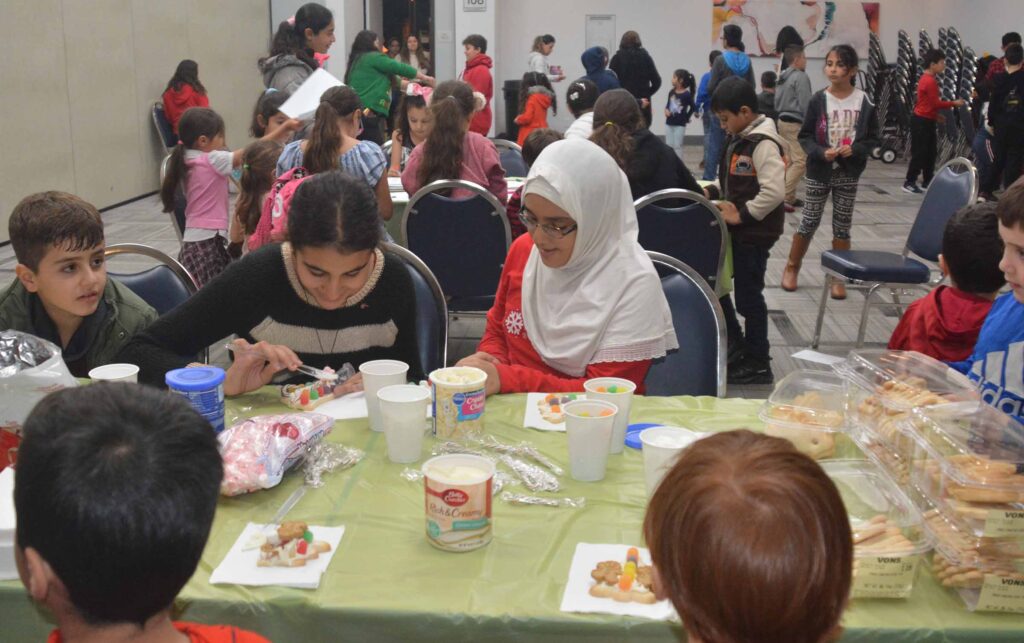 A donation letter, since Open The Gates is a 501 (c) 3, was drafted and targeted to businesses. PPM asked companies for donations and walked around the community with the letter to request help. The local community was informed and educated about the need to help these refugees. Some of the companies didn't realize that many refugees are struggling in their own areas. Each year, donations were received at a value of food, drinks and gift donations of over $1,500. Working with the president of Open the Gates, they contacted churches and businessmen to receive monetary donations to cover all the costs of the event.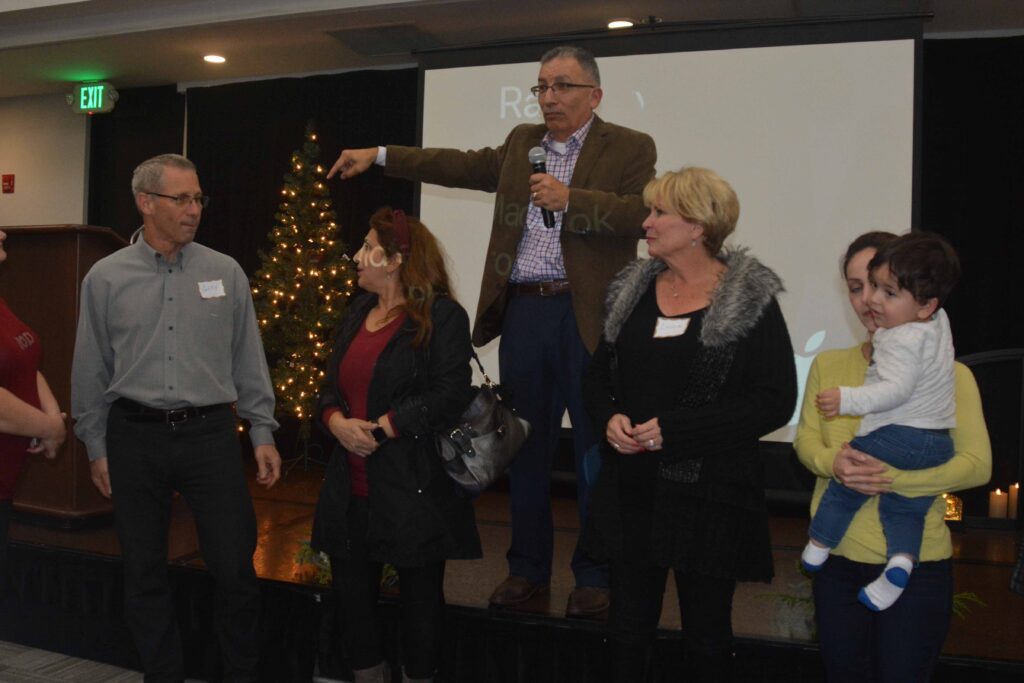 A few months prior to the event, regular meetings were scheduled with the volunteers and team leads were established for each area of the party. Lead areas included registration, food distribution, kids entertainment, adult entertainment, decorations, security and gift distribution. One of the issues with the refugees is people management, especially since the children can get loud and run around unless they are engaged. The solution was to separate the large conference room into two sections, one for the children's entertainment and one for the adult's entertainment The kid's entertainment included multiple activities so they wouldn't lose interest. A large volunteer staff was assigned to watch over their activities.
PPM wrote a press release and distributed it to the San Diego media community each year of the party The Californian newspaper brought a reporter and interviewed Daniel, OTG president, the first year and ran an article* in their paper after the event. The second year, KNSD-TV assigned a reporter and interviewed one of the refugees during the event then ran the segment** during the evening news that same day,
You'll find the news reports of the event below.
Californian Article" (See below)*
KNSD Report
https://www.nbcsandiego.com/on-air/as-seen-on/Church-Hosts-Refugee-Christmas-Celebration_San-Diego-502871231.html
In order to help one of the refugees' new businesses, the third year of the party PPM worked with OTG to get donors to support a doll project to give away to some of the girls at the party and for the refugee business to sew and construct the doll.
The goal was to increase the work given to refugees and give free dolls to girls at the party. The goal is to extend the reach of the doll project even more in future years.
See information about the rag dolls here.
In addition, each year more people are reached through a continuing bread donation effort through Panera Breads Day End Dough-Nation. https://www.panerabread.com/en-us/articles/day-end-dough-nation.html
Since the first Christmas event's donation, every week PPM, OTG and volunteers have managed picking up bread and distributing it to churches, homeless and needy people throughout San Diego.
Even more, in 2019 a See's candy fundraiser was conducted to provide candy to the refugee kids during Easter. In home visits were made to the families.
To help with the 2020 International Christmas Celebration go here. https://openthegates.org/contact/ and tell them what you'd like to help with.
*Californian Article
A magical evening at the International Christmas party for local Syrian refugees
Whenever kids show up at a Christmas party for them, they get excited. Throw in a magic show and they're hyped. But you've never seen kids get more amped-up than the group of more than 100 gathered in the lobby at the Ronald Reagan Center in El Cajon on the evening of December 22, 2017.
When their pastor Daniel Massieh waved his hand above them all, they quieted a little. He had to yell out that they needed to begin lining up to enter the room for the magic show. The noise then went from a dull roar to excited screams.
The children were Syrian refugees under the leadership of Massieh, who came to the United States from Egypt. A former Muslim who converted to Christianity, Massieh knows intimately the problems of integrating into a strange country with differing traditions, beliefs and culture.
Helping Muslim refugees survive in their new home in America, and reaching out to them with the gospel of Christ is Massieh's over-arching purpose in life. He does this, he said, "By breaking the walls, and opening the Gates between the Muslim and Christian community in the US."
Open the Gate, established in 2006 by Massieh, offers many community services to refugees, including teaching and bringing Muslims and Christians together as one community through events and conferences. In addition, at the Education center for refugees, Christians dedicate their time in teaching English, math, and other basic information. The volunteers also share their own faith and hope in Christ.
When asked what he believed what was the biggest misunderstanding that Muslims have initially about Christians, Massieh answered, "They believe that Christians are infidels believing in three gods and claiming that God has a son."
And of the misunderstandings that Christians have of Muslims? "[Christians believe Muslims] are dangerous, difficult, and violent," he said.
All those misperceptions get cleared up compassionately yet powerfully through the leadership of Massieh and the volunteers at Open the Gates (OTG). The organization offers classes to Christians, as well, to help them understand Islam and to reach out to Muslims without fear.
Massieh had planted the first Middle Eastern Church in San Diego in 1985. Since then, he has helped other denominations plant another five churches in El Cajon. As the founder of OTG, Massieh is able to help many churches to understand Islam and give the hope. He also teaches in different Bible colleges, is a nationwide missionary, speaker and motivator to churches.
His birth name Muhammed Kamel, he was born and raised in Egypt as a devout Muslim. From the time he was seven years old, he studied and memorized the Qur'an. When he was a young man, he learned about Christ and became a follower.
But how did Massieh hear of Christ? "You need to read my best-selling book, "Traitor,"" he said.
After the secret police in Egypt had arrested him for his faith in Christ and for his telling others the truth about Islam, the Attorney General asked Massieh the reason for his faith in Christ. Massieh answered him by asking three questions.
"Does Allah love you, Mr. Hisham?" He answered, "I don't know," said Massieh.
"Where are you going if you died today? Hell or heaven?' Massieh asked Mr. Hisham, who answered, "I don't know."
Massieh asked the third question, "Is Allah able to change you in Islam?" Mr. HIsham, replied, "No, Allah doesn't change people in Islam.
Massieh responded with, "Mr. Hisham, if you don't know if Allah loves you or not, and he will not take you to heaven, and He can't change you, why are you following Allah in Islam?"
Then Mr. Hisham asked Massieh the same three questions.
"I said, 'Yes, Jesus loves me, He gave me eternal life, and he changed my life. That's why I am a Christian,'" Massieh said.
Even so, Mr. Hisham ordered solitary confinement in prison for Massieh, with no bed, blanket, heat, shower or restroom—and given only one meal a day. He was also tortured for his beliefs.
What helped him get through that time in prison, Massieh said, was "My faith in Christ and His promises to me that He had called me to reveal truth about Him to Muslims everywhere I go."
Having the International Christmas party on December 22 was important, Massieh believes, because it showed Muslims the love of God and changed their minds about Americans and Christians as they reached out to help them.
Volunteers handed out free Bibles and DVDs in the Arabic language to the children and parents. While the children were entertained by Professor Rich's magic, the adults were in the adjacent room listening to musicians playing Christmas songs in Arabic and English.
Though the children were excited beyond words to watch the magic show and get a free dinner and presents, there is one thing that really lights up children's eyes, Massieh said.
"It is when they first hear of Christ and begin to understand his miracles and His love of them," he said.